Add an intercom or keypad to your garage door or gate for extra protection. We offer many of the best brands and different functionalities to fit your needs. Give us a call to discuss the best product for your needs or get a free estimate!

DOORKING 1812
1812 residential flush mounted telephone intercom system does not require a dedicated central phone line.
Has a built-in time lock, time zones, call waiting, call forwarding, and can dial out 3 pre-programmed numbers.
Includes 24 volt, 20 VA plug in transformer
Comes in stainless steel or gold face

DOORKING 1503
The programmable lock stores 2 four digit codes, 2 five digit codes, and 2 relay hold codes.
The unit has a single dry contact relay with a programmable relay strike time for 0.5 to 99 seconds.
Requires 12-24 volts, AC or DC transformer not included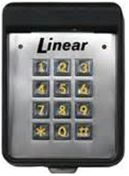 AK-11
Exterior surface mount keypad
Rugged, cast aluminum enclosure
All programming is done at the keypad, no separate programmer is required.
Up to 480 programmable keypad entry codes
Entry code can be one to six digits
Four independent outputs (2 relay, 2 solid)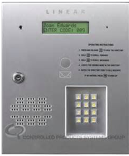 AE 500
Desirable for installations with as few as 25 users or as many as 250. Multi tenant sites like gated communities, apartments, condos, and dormitories can all benefit from it's simplicity and expansive capabilities.
The AE_500 provides control for a single gate or door, two gates, two doors, or a gate and a door. It includes a built-in radio for adding remote control via user transmitters, a function enhanced by the fact that liner is a leader in RF technology and offers the industry's widest range of transmitter styles.