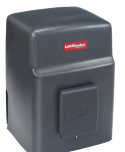 SL-3000-UL DM
The SL-3000-UL DM uses a unique, patented, dual motor feature. One motor opens the gate and the other one closes it, unlike any other operator in the world.
This allows it to function in less than ideal conditions, such as desert environments or heavily populated communities, without overheating the motors.
It is designed for continuous cycle high traffic operation on gates up to 37' and 800 lbs.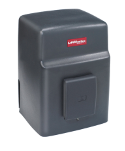 SL-3000-UL
The SL-3000-UL is smooth and exceptionally quiet, the most popular of all slide gate operating systems in the U.S.
This 1/2hp unit can handle continuous cycles daily with gates up to 1000 lbs.
1hp can handle gates up to 2000 lbs and 37' in length. It has a traveling speed of 12" per second.
Equipped with a 2 way ERD sensor and electronic shut off system along with other advanced features.

POWERMASTER RSG-2000
Gates up to 14' wide 350 lbs.
Post or pad mounted
Positive chain driven rotary limit switches
115 v 1/2 h.p. 24 volt
Manual disconnect provided
10 cycles per hour
Built in obstruction sensing device with separate adjustments for open and close.
Pre-wired to accept radio control, loop detector, photo cell, 1 button station and key switch.
Built in entrapment alarm.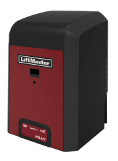 LIFTMASTER RSL 12V
Residential & light commercial
DC powered with built in battery back up
Synchronized close feature
Carbonate control box cover
Gate capacity: 800lbs or 25' in length 250 cycle per day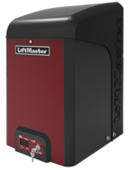 LIFTMASTER CSL 24
Residential & light commercial slide
DC powered
Gate capacity 1,500lbs. 50' length
Built in battery back-up
Soft start/stop operation
On board radio receiver (Holds 50 remotes)